The temporary departure of the Tokyo Metropolitan Police (and their cold-hearted wrestling
with elder survivors of the US-Jp 1945 battle in Okinawa, turned eco/peace-campaigners)
frees the spirit of Christmas (peace and good will towards all,
the traditional Ryukuan attitude year-round) in Henoko, Okinawa.
The original meaning of Christmas was about the exaltation of the humble, and the promise of justice and peace to people suffering under the repression of a foreign military empire. Rome ruled Palestine during the 1st century, and heavily taxed the people to fund endless military and imperial expansion. The story starts with the announcement by the foreign ruler, Caesar Augustus, for a census to further surveil, tax, and consolidate military control over his subjects. As with all arrogant human rulers, Caesar thinks by increasing surveillance, he can control the world. He sees himself as a "savior," professing that his rule will bring world peace, although he knows he is loathed by his colonial subjects who detest and engage in persistent resistance against his harsh and violent military rule.
The first Christmas carol,
The Magnificat,
(
Mary's Song
), was actually a plea of a subjugated people who longed to be freed from the economic and political burdens of foreign military rule.
Two thousands years later, the original meaning of the Christmas story is still relevant to people oppressed by modern-day Caesars, who increase taxes to expand militaries and who wage wars without end. Even as they promise security and peace, these modern Caesars bring the opposite, and ignore the pleas for peace, the cries of the wounded and dying, tears of refugees fleeing from perpetual wars, and citizens at home calling for justice for the poor, hungry, and homeless.
On Feb. 22, 2015, Japanese security guards employed by the US military assaulted
Henoko leader Hiroji Yamashiro and pulled him by his feet across a boundary line, for US military detention.
A month after his release, Mr. Yamashiro was diagnosed with lymphoma, for which he is being treated.
(Photo: Ryukyu Shimpo)
Tokyo Metropolitan Riot police carry away an Okinawan human rights/eco-peace demonstrator
from the road in front of Camp Schwab, a US military training base, on Dec. 17, 2015.
Camp Schwab was built on 5,000 acres of private property that the US military acquired by coercion in 1955.
(Photo: N. Kouno)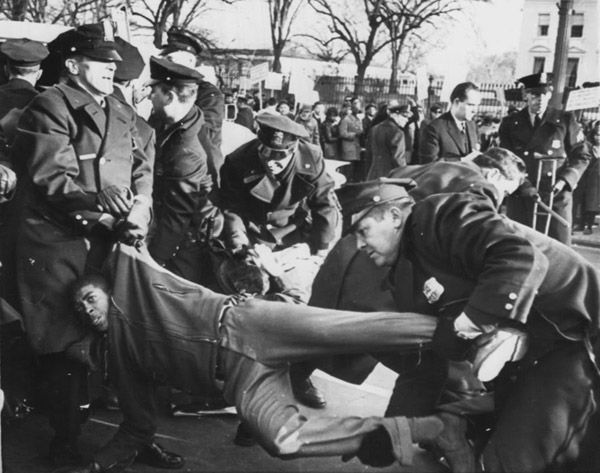 Police carry away an African American human rights demonstrator
from Pennsylvania Avenue in front of the White House on March 12, 1965.
Someday at Christmas
, an antiwar Christmas song by Stevie Wonder (with Andra Day), was first released in 1967, as a protest against the US war in Vietnam in solidarity with the African American civil rights movement. Stevie Wonder exposes the paradox of a joyful Christmas when people nonviolently struggling for human rights must endure police assaults, people lay dying from bombing attacks and children go hungry worldwide. Steve Wonder argues that the true message of Christmas is that fellowship, love, justice, and peace should be for all people:
Someday at Christmas

Someday at Christmas men won't be boys
Playing with bombs like kids play with toys
One warm December our hearts will see
A world where men are free

Someday at Christmas there'll be no wars
When we have learned what Christmas is for
When we have found what life's really worth
There'll be peace on earth

Someday all our dreams will come to be
Someday in a world where men are free
Maybe not in time for you and me
But someday at Christmastime

Someday at Christmas we'll see a Man
No hungry children, no empty hand
One happy morning people will share
Our world where people care

Someday at Christmas there'll be no tears
All men are equal and no men have fears
One shinning moment my heart ran away
From our world today

Someday all our dreams will come to be
Someday in a world where men are free
Maybe not in time for you and me
But someday at Christmastime

Someday at Christmas man will not fail
Hate will be gone love will prevail
Someday a new world that we can start
With hope in every heart

(Someday all our dreams will come to be)
(Someday in a world where men are free)
Maybe not in time for you and me
But someday at Christmastime
Someday at Christmastime